hilton head macula & retina
Brand Identity Design & Long-Term Publicity for a Medical Office
Summary
Dr. Peter Liggett is a nationally renowned macula and retina specialist whose experience spans three decades. Dr. Liggett is a well-known educator,  a Clinical Professor of Ophthalmology at both Yale School of Medicine and the Cornell Weill College of Medicine in New York. Dr. Liggett was a principal investigator on the National Institute of Health Collaborative Ocular Melanoma Study. 
Bragg Media provided a variety of creative, medical marketing and public relations services for  Hilton Head Macula & Retina.
Challenge
When Dr. Liggett moved from Connecticut to Hilton Head Island five years ago, he established the first local macula and retina practice on the island. In addition to brand identity, he needed an extensive brand awareness campaign to attract new patients. As an eye specialist, Dr. Liggett is sometimes confused with providing routine comprehensive eye exams. However, his specialty centers on eye diseases that affect the back of the eye, such as age-related macular degeneration. Many of his patients are referred to him by ophthalmologists and other healthcare providers.
Insights
To develop Dr. Liggett's branding, we relied heavily on his impressive background. Dr. Liggett has received numerous grants and awards and has written more than 75 articles and chapters in peer-reviewed literature. He has written four major textbooks on diseases of the macula and retina. He is an examiner for the American Board of Ophthalmology. Hilton Head Macula & Retina's office is equipped his office with state-of-the-art imaging laser and treatment technology exclusive to South Carolina. Simply put, Dr. Liggett is a leader in the evaluation and treatment of macula and retina diseases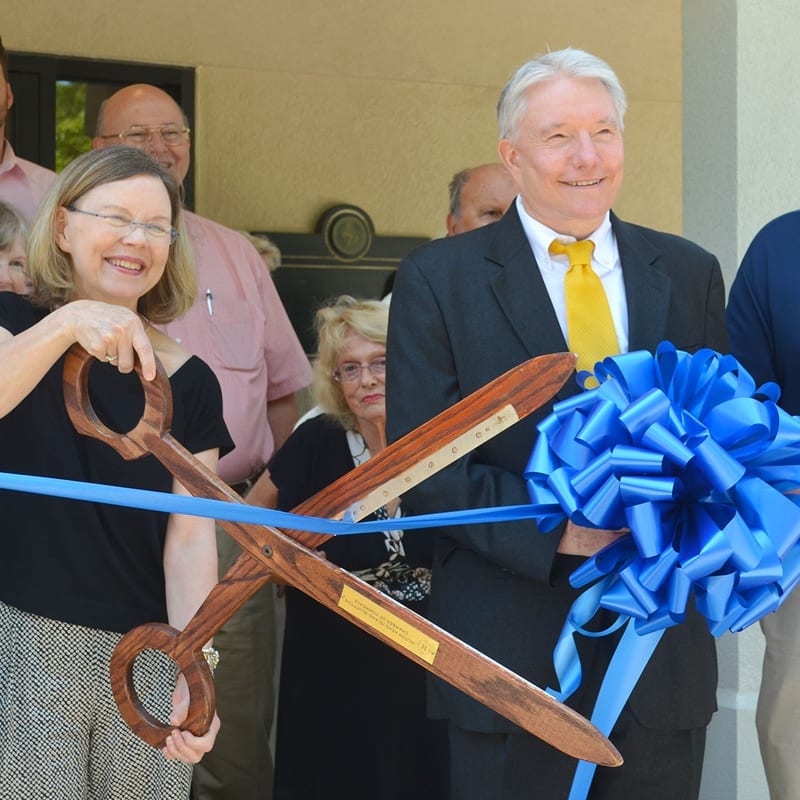 Dr. Liggett attempted to use an online logo design service that did not fit the needs of his practice. We took over the project and  designed an eye-catching brand identity that seamlessly integrated with all of his marketing material. The Bragg Media team developed easy-to-recognize brand materials, including business cards, advertisements, signs, appointment cards and rack cards.
During the first two years of Dr. Liggett's news Hilton Head practice, we implemented an aggressive advertising campaign in local newspapers and television, as well as e-blasts and social media advertising. Additionally, we established and continue to manage a versatile social media presence that positions Dr. Liggett as the expert and leader in his field.
To welcome Hilton Head Macula & Retina to the Lowcountry, we executed an open house and ribbon cutting. Additionally, we regularly planned and promoted educational seminars on age-related macular degeneration and low vision. The seminars provided a unique opportunity for Dr. Liggett to communicate the latest treatments affecting his patient populace. This one-on-one time with the local community establishes trust and authority. 
Results
The successful publicity and marketing  surrounding the launch of Hilton Head Macula & Retina has resulted in the continued growth of the medical practice. Two years after moving from Connecticut to Hilton Head, the eye care specialist practice grew exponentially and hired new staff members. 
Media exposure,  attention-grabbing ads, regular seminars and social media marketing enhances Hilton Head Macula & Retina's strong leadership role in the local medical community. Dr. Liggett is the go-to retina specialist for all of the ophthalmologists in the area. The staff recently treated their 2,000th patient.
Respected Legacy
Dr. Peter Liggett's background and experience alone has established him as an expert in his field.
25
Hilton Head Macula & Retina treats about 25 patients per day for eye diseases that affect the retina.
2,000
The staff recently treated the 2,000th patient since opening the practice 5 years ago.
Find out how we can put solutions like these to work for you.
Ongoing creative and communications for a water utility
planting the seeds for success.
Building Buzz that keeps growing.
Creating a brand that people talk about.
Client Services
All of Our Services
Just Looking?